Spring appears each year, like the earth's way of saying 'sorry about all the grim bits of winter'. Short days and dark nights become light, bright mornings and sunny evenings. The freezing slush and snow gives way to pretty cherry blossom in the trees and daffodils poking out of the grass. It's enough to make you want to, oh, we don't know…. really get stuck into some spring crafts to celebrate the best of the season? And would you look at that – we just happen to have pulled together a guide to some lovely spring crafts.
Spring really is a nice time to get creative. Get out on a walk for some inspiration, and see the natural world, and bring back bits and pieces you can use for crafting. Whether you're after some spring crafts for kids to keep them busy during half-term holidays or maybe some more refined spring crafts for adults, we've got plenty of good suggestions that will help you make the most of springtime.  
Spring crafts for kids
If you're planning some spring crafts for toddlers or young children, it's best to keep it simple so it's easy for little fingers to follow along. Here are a few sweet spring crafts for kids that they're sure to love!
Ladybug painted rocks
If the weather's warm enough for a trip to the beach, or even just for a walk in the woods, send your little ones looking for some perfectly-proportioned pebbles. Then you can spend a day of spring arts and crafts creating a little family of ladybugs in bright colours. They're easy to make, and look super cute dotted around the garden! Crafts by Amanda have created a super cute tutorial, but the concept is pretty simple – just make sure you pick up a sealant or clear coat if you're putting your ladybug gang outside.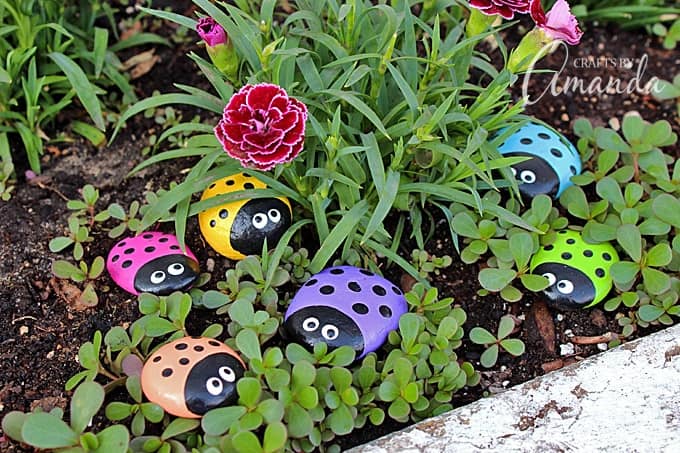 Image credit: Crafts by Amanda
Pretty paper flowers
Celebrate the most colourful part of springtime with these sweet paper flowers from Easy Peasy and Fun. All you need is for this easy spring craft is some coloured paper, paper straws and some glue – you might want to cut the paper strips yourself, but assembling the flowers makes for nice and easy spring crafts for toddlers or kids. Why not stick them into a window box to make a cheerful spring display?
Image credit: Easy Peasy and Fun
Cherry blossom tree art
You've got options with this cute spring craft idea –you can either use crumpled-up pink tissue paper to create a pretty 3D effect, like this tutorial from The Adventure Starts Here. But if you're doing spring crafts for toddlers and you'd rather not have pink tissue paper flying everywhere, let them use some pink paint and create the blossoms with fingerprints – or even use a piece of broccoli (yes, really) to create pretty pink blossoms, as Glued to my Crafts describes in their tutorial. In either case, you can draw your own tree, or use a free tree template printable, like this one from Crafts on Sea.
Spring crafts for adults
Don't go thinking that kids get to have all the fun – springtime is a great time for grown-ups to get involved, with our selection of a few tasteful and surprisingly elegant spring crafts for adults. Forget another day slumped in front of Netflix – embrace your DIY side with some fun spring crafting.
Floral spring wreath
Florals? For spring? Groundbreaking.
We know that flower-themed spring crafts isn't exactly the most original idea of all time, but this pretty floral spring wreath from Hello Central Avenue is just too pretty to pass up. While they created their lovely spring craft wreath using artificial flowers, you could pick some flowers from your garden to include – and if you'd like to keep them, make sure you check out our tutorial on how to press and dry flowers.
Image credit: Country Living
Colander planters
Give an old bit of kitchenware a bit of love with this cheery upcycling spring craft from Country Living – break out some paints and twine and give a colander a facelift into a pretty hanging planter that's perfect for spring flowers. Use trailing plants and bright pops of colour to really bring the look together, and get ready to smugly tell any admirers 'yes, I made it from an old colander'.  
Image credit: Country Living
Robin's egg mason jars
Looking for some cute and tasteful spring craft ideas? These sweet speckled mason jars fit the bill. They're definitely spring-inspired, without being super in-your-face about it, but the pretty robin's egg blue and speckled effect are charming. You'll just need some paint, ideally with a rustic chalk finish, twine, brown paint for the dots, and an old toothbrush that you can flick paint from to get that natural 'speckled' look. Get the full tutorial from Yesterday on Tuesday and plan this as a pretty centrepiece for a spring meal, or arranged on your coffee table.
Image credit: Yesterday on Tuesday
The warmer days bring with them plenty of opportunity for some fun spring crafts, whether it's for craft days with the kids or making some tasteful spring-inspired designs for your home. Let our little list of spring art ideas serve as a jumping-off point – springtime really is what you make of it.
 For more inspiration at the other end of the season, check out our guide to some fun winter craft ideas, or widen your crafting skill repertoire by getting started with calligraphy. And remember, year-round you can always find fun DIY guides and craft ideas at the thortful blog.